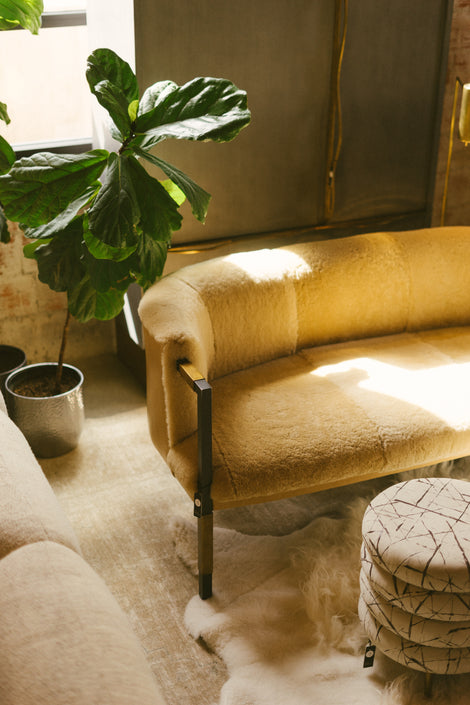 Welcome to the Architect's Wife
Cool and imaginative: if ever there was a store that was the perfect embodiment of its owner/designer, Architect's Wife is it. Abby Hetherington has created the physical materialization of her modern mountain design aesthetic. Hetherington is rewriting the vocabulary on what mountain style can be, using her innovative touch to put seeming contradictions into a polished harmony.
Located in the historic Montana Motor Supply building in downtown Bozeman, Architect's Wife is known for its ability to combine pieces from different ages and styles. Most of the upholstery is sourced from Italy, and is layered in the showroom with American made and found items with personality, vibrant colors, and generous textures. Every item is hand-selected to deliver an impeccable experience of craftsmanship and luxury, but with a distinct juxtaposition of eccentricity.
Hetherington, and her team at
Abby Hetherington Interiors
, are constantly sourcing pieces from auctions, contemporary artists, antique fairs, and exclusive european retailers. This consistent curation process gives the store an evolving inventory, creating an intriguing mix of vintage one-of-a kind items blended with a european sensibility.
Where Modern meets Montana
This environment creates a unique and highly personalized shopping experience among high-end contemporary and custom furniture, that is at once luxurious and inviting.
From games and gifts to furniture and unique one-of-a-kind pieces of Montana history, you'll always discover something new when you step onto the showroom floor.
---
HOURS:
Monday through Friday: 10am—6pm
Saturday: 10am—5pm
406-577-2000
23 W Babcock St., Bozeman, MT 59715
at the corner of Willson & Babcock